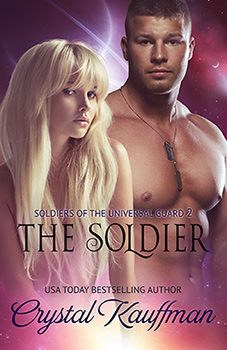 The Soldier
Book 2
Universal Guard series
When Commander Jace Weston of the Universal Guard tracks a fugitive into the harem of a royal palace, he never expects to find an ally-and a lover-in the nubile princess of the rival kingdom. Forbidden to marry or even dally while on duty, Jace doesn't dream about things he can never have. But when he meets the courageous princess condemned to a loveless marriage who dreams of nothing but finding love, he learns some things are worth wishing for.
Political climates change like the direction of the wind, and Princess Tamara understands someday she will have to marry the unpleasant prince of her neighboring kingdom. But when she is rescued from a grotesque alien fugitive by a drop-dead sexy soldier, Tamara seizes the opportunity to choose her first lover. The three-day journey back to her kingdom filled with scorching sex turns into more than just astounding physical delight, and Tamara fears she cannot live without the touch of the strong soldier who has stolen her heart.
"An enjoyable slice of cheese…"
⭐⭐⭐ Mrs. Giggles
"[The Soldier] is a wonderful short story with enough heat to set the jungle on fire."
⭐⭐⭐⭐ Sizzling Hot Books
"Great characters…"
⭐⭐⭐⭐ Coffee Time Romance & More
"I fell in love with the hero…"
⭐⭐⭐⭐⭐ Sara, Night Owl Reviews

Jace had a bad feeling about this planet the minute he touched down.
There's definitely something wrong here.
"Are you quite certain this creature you're hunting—"
"Fugitive." Jace glared at the prince's steward. The wiry man wrung his hands, clearly unhappy about Jace's presence.
"Er, yes, of course. Are you quite certain he's inside the palace?"
At Jace's narrowed gaze, the man stammered on. "While Prince Gafar's royal house would never deny a soldier of the Universal Guard, er, it just seems such an unlikely place for a fugitive to hide."
"Don't be fooled," Jace muttered. He'd found the chamelionidas's crash-landing site not far away. The tropical climate of this region, and the high population of fertile females in the palace, proved a perfect lure for the fugitive.
The steward led him into a wide, tile-floored hall. The open archways let in a balmy breeze that stirred the lush fronds of alien palms.
Several women in filmy, alluring attire stared unabashedly at Jace as they passed. He supposed his seven-foot frame was as unusual to them as their watery blue eyes and white-blonde hair was to him.
"I understand the need to capture all criminals, I certainly do," the steward stammered on. "I just wish the royal family were present at this time. Of course they would want me to bestow whatever assistance I could…"
Two guards entered the hall dragging a struggling female. The steward's voice drifted away.
Her attire seemed more opulent and slightly more revealing than the other females he'd seen since entering the palace, but it was this girl's unique beauty that caught and held his attention.
Even at a distance he could see her blue eyes were darker than the other Rendarians', making her appear half human. Her fair skin had a pinker glow than the pale people of Rendaria Omega, and the blond hair that reached her waist was a deeper gold, with silvery highlights that caught the rays of the two suns slipping through the open archways.
But her difference in coloration was only half of her stunning appearance. She was a remarkable beauty, with noble bone structure and full pink lips that beckoned a man to kiss her. Her captivating eyes were edged with dark lashes that made a vibrant contrast to her creamy skin. She was almost as tall as the two guards holding her arms, with a lush, curvy body and long, muscular legs.
No wonder this planet had such strict landing regulations.
The female fought against the guards holding her arms. Full, round breasts bounced with her struggles, and the opalescent swaths of her sheer gown shimmered as they moved over her like water. The fabric had a translucent quality, and as the guards dragged her past, Jace glimpsed the dark circles of her nipples and the patch of hair atop her thighs.
"Oma si veka. Gan! Sooba gem tak vikka. Oma si veka!"
Even without understanding a single word, he read the panic in her tone. She threw her gaze at him, recognizing him as an outsider, and the desperation in her voice grew.
"Oma si veka! Sooba vikka. Help me!"
The Soldier is available at your favorite bookstore
Amazon | Barnes & Noble | iBooks | Kobo | Smashwords