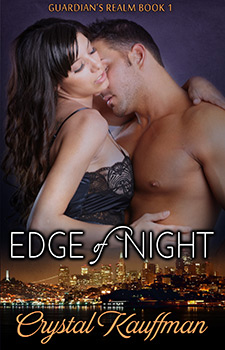 Edge of Night
Book One
Guardian's Realm series
Desperate to locate her missing sister, Gabrielle Langston travels to San Francisco expecting to find Linna in a fanatical Goth community of wannabe blood suckers. Instead Gabrielle discovers real—real!—vampires, sexy gargoyles, and an undead prince intent on claiming her as his bride.
Though it was over eight hundred years ago a vampire killed his young bride, the scars on Davin McCain's soul burn deep. He has risked his life for the Guardians for eight centuries, yet never again has he risked his heart. But when he rescues feisty Gabrielle, Davin is lost to the charms of the pretty, green-eyed human.
Her dangerous idea to infiltrate the vampire coven is the only chance the Guardians have to finally locate the vampire "Palace," and Davin realizes while he's just found the mate he wants by his side for eternity, he could lose her in mere days.
Gabrielle is swept into a cataclysmic war between the Guardians; an ancient sect of gargoyles charged with policing vampire kind, and a maniacal vampire king who intends to enslave humanity for the sinful pleasures of vampires worldwide. A war to which Gabrielle alone holds the key.
"…a dark and very unique world in a genre that has practically seen it all…a brilliant start for Ms. Kauffman and I'll definitely be on the lookout for my next chance to visit the Guardian's Realm."
⭐⭐⭐⭐ Angela, Fallen Angel Reviews
"Wow. EDGE OF NIGHT was fantastic! Davin's character just made me melt! I highly recommend this book to anyone, especially if you enjoy a good paranormal read."
⭐⭐⭐⭐⭐ Romance Junkies
"Crystal's setting is vividly realised as she plunges readers into the shadowy, erotic underworld where vampires and gargoyles stalk each other."
⭐⭐⭐⭐You Gotta Read Romance Reviews
"…a high octane, emotional powerhouse tale of forbidden love…"
⭐⭐⭐⭐⭐ Joyfully Reviewed
"If you enjoy a wild and hot ride with some unique gargoyles, then grab EDGE OF NIGHT and hold onto your seats…it's about to get bumpy."
⭐⭐⭐⭐⭐ Love Romances & More
"…an emotional roller coaster from which I am still reeling… I look forward to reading the other Guardian's Realm books and any other book written by this talented author."
⭐⭐⭐⭐1/2 Dark Diva Reviews
"You would have to be made of stone not to find this story as heroic and sweet as it is blistering hot and erotic."
⭐⭐⭐⭐ Lototy, Coffee Time Romance & More

"I want you to scream like this when I plunge my fangs into your tender throat. Save your breath because I won't be the first or the last, little sacrifice. Spike likes it when you scream, too. We're going to fuck you and feed from you until we're satisfied, and then we're going to do it all over again!"
It was real! Horribly, dreadfully real!
"No!" Even as black fingers of oblivion clawed at the edges of her consciousness, she knew she had one escape.
Death.
She twisted and kicked, flailing with her free hand until she managed to jam it inside her coat pocket. Her fingers closed around her pepper spray, still safely locked. The small steel cylinder felt solid beneath her fingers, a last sliver of reality. She brought it to her lips and pulled the safety pin free with her teeth, then spit it out.
"Please!"
"Ooh, I love it when you beg!" He glanced down, his eyes flashing red with malicious glee.
She sprayed him.
The vampire cried out and released her, bringing both hands to his eyes. "You fucking bitch!"
She careened toward earth, her descent smooth compared to the battering, jerking flight into the sky. Her final scream was one of relief and acceptance. A soft blanket of darkness wrapped around her.
Flap.
Something impacted Gabrielle hard enough to rattle her bones.
"Easy there. I've got you." The deep voice spoke just at her ear, a rumbling resonance that tingled across every nerve ending.
Flap.
Strong arms cradled her, pulling her against a rock-solid chest. The musky scent of virile male filled her senses. At once, she recognized the stark, refreshing difference from Evan's sour odor.
Flap.
It was the sound she'd heard on the street. Massive wings rose and fell, surging them upward and plunging them downward. Flying, again, but this time gently, smoothly, her body cradled beneath him like someone might hold a baby as they set it down in its crib.
"Can you hold on to me?"
Who are you? she wanted to ask, but all that came out was an "ah." Her limbs had gone numb; her body too weak to try and hold on.
Whatever it was that Evan had given her, she couldn't fight it. She no longer wanted to, she realized calmly. Take me.
Edge of Night is available at
Amazon | Barnes & Noble | iBooks | Kobo | Smashwords